"Youth strengthening themselves 
and others in virtuous living."
Sponsored by Upward Reach Foundation
Upward Reach Foundation sponsors the youth campaign – "Voices For Virtue" (V4V). V4V  is primarily for LDS youth ages 12-24. but friends of other faiths are welcome. The Upward Reach Foundation oversees fund raising, financial, legal and all other aspects of V4V.   Upward Reach is a private non-profit foundation.  The Upward Reach Foundation and the V4Vcampaign are not sponsored by the Church of Jesus Christ of Latter-Day Saints. The Upward Reach Foundation has an executive board that meets regularly on Temple Square in Salt Lake City.
Mission
V4V believes by helping youth recognize their divine identity and strengthening their virtue, pornography and other immoral behavior are reduced or eliminated. V4V first went live on Facebook in October 2010. Subsequently we have developed several social networking delivery systems. Currently (June 2014) we have about 900,o00 fans on our English
Voices For Virtue, 
Portuguese
Voz da Virtude
 and Spanish
Voz de Virtud.
 Facebook pages. With your help we plan to grow the V4V community to one million voices for virtue. These pages are displayed as "
Global Pages.
"
For a brief history see the Meridian Magazine article
Voices for Virtue Come Together for Facebook Rally.
Our goal is  to develop Youtube, Google+, Instagam, Pintrest and other delivery systems. The primary power of V4V is when youth come to our V4V community they experience love, respect, and the Spirit.
We recognize our Heavenly Father and His Son Jesus Christ as the key ingredient of our success.
We respect  the teachings of
The Church Of Jesus Christ of Latter-day Saints
and "
anything virtuous, lovely, or of good report or praiseworthy
."
We are a miracle.
Our Definition of Virtue
Messaging from the V4V Community focuses on the following topics:
The V4V strategy includes:
REACH OUT  to youth through various social networking and other media.
ENGAGE these youth in a positive virtuous discussion.
ENCOURAGE  youth to create, deliver and share uplifting wholesome content.
COMMIT youth to virtuous living.
INVITE their peers to do the same.
The V4V youth volunteers work with professional  mentors in creating and delivering content via various social networking platforms to youth around the world. The diagram below depicts the process.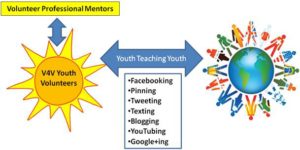 Basic Beliefs
1) These are the last days We are living in the prophesied time "when peace shall be taken from the earth" (D&C 1:35), when "all things shall be in commotion" and "men's hearts shall fail them" (D&C 88:91). There are many temporal commotions, including wars, natural disasters, and economic crises – but perhaps the greatest "commotion" is the general acceptance of immorality. Satan has unleashed an evil campaign to undermine the sanctity of womanhood. Neal A. Maxwell, "These Are Your Days", Ensign, Oct. 2004 2) Today's youth are a chosen generation We young people are a chosen generation. The Lord and prophets have great confidence in us. We are the finest generation in the history of the Church. It will only be a short time until we take over the leadership of this church and of other great responsibilities. We are "The Royal Army" who will play an important part in the final scenes prior to our Savior's coming. Gordon B. Hinckley, "A Chosen Generation", Ensign, May 1992 3) There is a great need to raise the "Banner of Virtue" While we are powerless to alter the Second Coming of Savior and unable to know its exact time, we can influence the preparation of young people by strengthening virtue. One virtuous young woman or man, led by the Spirit, can change the world. As the "banner of virtue" is raised, like Captain Moroni raising the "title of Liberty," we expect –Young people to come running with their armor girded about their loins (See: Alma 46:21) to fight for virtue. Elaine S. Dalton,"Come Let Us Go Up to the Mountain of the Lord," Ensign, May 2009 4) Social Networking is an effective way to communicate with youth We communicate most effectively with other young people through social media and cell texting. With these delivery systems, we can raise the Banner of Virtue. Social media can be a powerful force for good.  M. Russell Ballard, "Sharing the Gospel Using the Internet", Ensign, July 2008 5) V4V is the tool we use to raise the Banner of Virtue.
Teaching Skills and Building Assets 
V4V  uses contemporary prevention and early intervention techniques that have been proven to reduce youth crime, delinquency and some unwanted sexual behaviors.  V4V incorporates elements of several proven models including the comprehensive social developmental model known as "Communities That Care" developed by J. David Hawkins, Ph.D. and Richard F. Catalano, Ph.D. (1996). And the models referred to as "Strengths-Based Approaches" promoted by  Kevin M. Powell (2010) and "Good Lives Model" as described by Laws and Ward (2011).
Volunteers
V4V consist of a group of individuals who develop, organize and maintain V4V. The campaign is strengthened by young people helping each other rather than authority figures attempting to help youth.  We will ask you to report weekly about the number of hours you donate building the V4V community.